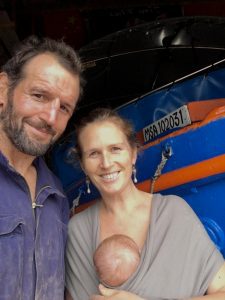 Carl Hayman born in Taranaki, started his professional rugby career playing for the Otago Highlanders.
Carl was then chosen to play tighthead prop for the All Blacks gaining 45 caps for his country.
In 2007 he moved to Europe and played for Rugby Club Toulonais (Toulon) where he helped the team win the Heineken Cup 3 times. 
After retiring from rugby, Carl returned to his beloved Taranaki and with his partner Kiko purchased the Chaddy's Charter business in 2020.
Carl is our in house skipper for Rescue III and loves being out at sea.
 Kiko Matthews, born in the UK, started her professional career as a science teacher before a serious illness made her change her perspective on life.
 Kiko started a successful Stand Up Paddleboard business in London before taking up rowing in 2017. 
A year later she became the fastest woman to solo row unsupported 3280 miles across the Atlantic Ocean.
Kiko is a keen environmentalist and later went on to ride 7000km around the coast of Great Britain raising awareness for pollution by organising beach cleans every evening with local communities.
Whilst Carl skippers the boat, Kiko manages the business side of Chaddy's Charters and looks after their new baby, Genevieve Ocean.